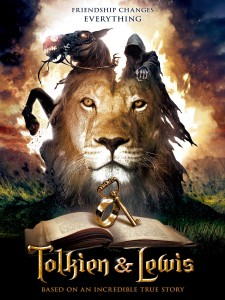 Over the last few years, there have been many starts and stops for movies based on the life of J.R.R. Tolkien, including some that focus on his friendship with Narnia writer C.S. Lewis. There are currently at least two Tolkien movies that seem to be nearing production, with at least two more that I know are in varying stages of development. There's also a TV series that is currently being written. Yep, that's four different movies and a television series about Tolkien.
Tolkien & Lewis – The story centers on Tolkien's relationship with his University of Oxford colleague C.S. Lewis, whom Tolkien, a devout Catholic, converted to Christianity. The formerly agnostic Lewis' newfound faith infused his most popular books, including The Chronicles of Narnia series, while Lewis in turn encouraged Tolkien to finish hisThe Lord of the Rings volumes, which were decades in the making. Much of the movie takes place at the beginning of World War II, when Tolkien, a veteran of World War I, is haunted by memories of his fallen friends. Meanwhile, Lewis' growing fame as an untrained theologian strains his relationship with Tolkien and his university job. Tolkien & Lewis producers include Mark Joseph (Reagan, Max Rose), Mark Cooper(Chocolat), Jib Polhemus (The Mechanic), Charles Moore (The Eagle) and Wernher Pramschufer. (via) It is an $18 million drama, and will be produced by UK-based production outfit Attractive Films and directed by Simon West, known for The Expendables 2, Con Air, and a certain Rick Astley music video.
Mark Joseph, a producer on Tolkien & Lewis, was also an exec for The Chronicles of Narnia: The Lion, the Witch and the Wardrobe (2005).
Tolkien (Working Title) – The Tolkien project is being put together at studio Fox Searchlight by producer Peter Chernin of Chernin Entertainment, which has brought films such as The Heat and Rise of the Planet of the Apes to cinemas in recent years. It will follow in the celluloid footsteps of films such as the Oscar-nominated 2004 J.M. Barrie biopic Finding Neverland, which told the story of the creator of Peter Pan, and this year's London film festival hit Saving Mr. Banks, which chronicled the history of the spiky inventor of Mary Poppins, P.L. Travers, and her tussles with Walt Disney over the film adaptation of her book. (via)
I'm not sure of the progress of the other three projects, at this point. These two look closest to production at this point.