It seems NarniaFans.com catches up with or reports on the stage production of The Screwtape Letters that was adapted by Max McLean at least every two years. I had the honor of taking charge of the task this time around and caught up with him by phone last week. Below are some highlights of that conversation from my All About Jack: A C.S. Lewis Podcast site. If you want to hear the complete interview just follow this link.
As you may recall, The Screwtape Letters presents the viewpoint of a demon in hell who is trying help his nephew with corrupting a human on earth. If you are unfamiliar with the book, or want a useful reminder of the material consider checking out my special introduction to The Screwtape Letters from my other blog. Keep up with all my work related to C.S. Lewis by visiting EssentialCSLewis.com. Read the rest of this entry »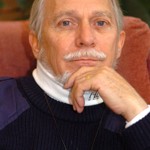 The Lion's Call has a report about the future of C.S. Lewis' work on film.  In particular, he spoke a bit about the future of Narnia on the big screen, with his hopes for the franchise, as well as other properties such as The Screwtape Letters and The Space Trilogy.
It was at a talk he gave at Oxford.  He would love to continue making the Narnia films, but there is a seven year moratorium on the series if Walden Media is not involved.  We're into the second year of that moratorium, and possibly the third.  Plus, if Walden Media releases the moratorium (something that I'm sure takes loads of legal paperwork), it could be sooner.  The purpose of a moratorium at all is to protect a studio from having the production make only one movie with them, and jump to another studio with the next film and so on.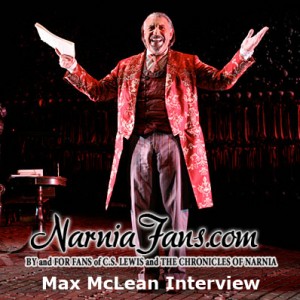 NarniaFans.com was able to interview Max McLean who plays the role of the demon Screwtape in the Screwtape letters stage production. This play is an adaptation of C.S. Lewis's classic book that tells about Spiritual Warfare from a demon's point of view. The Screwtape Letters is on a national tour and you can find out a list of current cities by visiting http://www.narniafans.com/archives/11552 or http://screwtapeonstage.com/.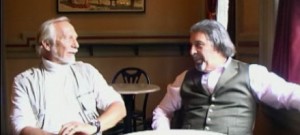 Our good friend Douglas Gresham was recently in New York City for a performance of the play The Screwtape Letters. He stayed around afterward to lead a question and answer session, and also took part in a recorded interview that touches on The Voyage of the Dawn Treader, Tolkien and the Inklings, and the resonance of Lewis' words today.
Read the rest of this entry »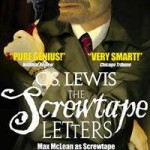 THE SCREWTAPE LETTERS, the provocative and wickedly funny theatrical adaptation of the C.S. Lewis novel about spiritual warfare from a demon's point of view, will feature an exclusive one-night-only performance and post-show talk-back discussion with Douglas Gresham, the step-son of C.S. Lewis, well-known author and Chronicles of Narnia producer; and star Max McLean at The Westside Theatre, 407 West 43rd Street, New York on Friday, June 11 at 8 p.m. Tickets to the not-to-be-missed event are available by calling 212.239.6200 or visiting www.telecharge.com. THE SCREWTAPE LETTERS is currently on sale through September 5.
A few weeks ago I noticed that some of the C.S. Lewis books were getting new cover art on Amazon.com. I ignored it at first, but I have seen it reported on in a number of places and thought it would be good to alert readers of this website about them as well.
Now, some sites are reporting that there are 9 books receiving new covers, whereas the official C.S. Lewis book website says "Collect all 10 beautiful new editions of C.S. Lewis's greatest works." I'm doing some digging to find out if it is, in fact, 10 books receiving the new cover art.
With wit and insight, C.S. Lewis' landmark book, The Screwtape Letters, reveals many ways in which evil can take hold, both within and without. In the intimate woodland retreat of Camp Allen, join Professor Ralph Wood of Baylor University as he imparts lessons from Lewis on how to perceive and resist the snares of Screwtape in our everyday lives.
Featuring Lewis scholars Louis Markos, George Musacchio, & Andrew Lazo, worship with Rev. Michael Wyckoff, and performances by Ad Deum Dance Company and singer/songwriter Michael Kelly Blanchard.
This retreat will challenge your mind, refresh your body, and renew your spirit. Don't miss it!
Other Highlights:
• Small group sessions on conference themes
• Worship and fellowship with friends old and new
• Outdoor recreation during free time
• Children's Track for young Narnians (ages 7-12)
• Bag End Café – informal after-hours readings and musical offerings by retreat participants and guest musicians
Visit us online at www.cslewis.org
or call toll-free 1-866-334-2267
It would be very hard to think about playing the devil in a play. In "The Screwtape Letters" which began showing in Washington, D.C. on April 17th and ran through May 18th, Max McLean played the lead character from the C.S. Lewis' book with the same title. Mr. McLean sat down with The Christian Post and chatted about how he felt about playing a devil and what he thinks is the most common temptation in society today.
When The Christian Post asked him how he felt about playing a devil and if it was difficult because he was a Christian, McLean said that from actually an acting perspective, it was a lot of fun. That's the reality of if, but as a Christian, he said that was what had been very helpful about it is that he (Screwtape) exposed in him his pride because he is pure pride. So in order to play him you have got to just go for those places which unfortunately were quite easy for him to find. I think that we can all relate to that pride aspect.
McLean said that what he most admired about C.S. Lewis is that he was so self-forgetful. He could say "What if I look at it from the other point of view?" and that is where the genius of Screwtape is. First of all , it really takes the enemy very seriously, which is of course is like the James verse about you believe in God, great, the demons believe in God and they shudder. That is exactly where Screwtape is at.
When asked which temptation from the play he thought was most frequently employed in today's modern society McLean said that the world view is that being cool is better than being authentic, where superficiality is more important than substance, and if the devil can he'd like us to stay on the external and not deal with the character issues, which is firmly rooted in humility. He wants us to get outside of ourselves and that is why he wants so much noise that we don't have any quiet time with our Lord and we can't really reflect. I think Mr. McLean hit it on the mark. The devil loves chaos so that we can't have that quiet time with God and really self evaluate our character.
The High Calling had a chance to interview Micheal Flaherty about their films and they brought up both Dawn Treader and Screwtape Letters. Here's a portion of that interview. You can read the rest at the source link above.
Can you give any news about when Screwtape or Dawn Treader will come out?
The first time I spoke with you, I had just received the first draft of Dawn Treader. Literally as we were speaking it was there on my desk. I hadn't even opened it up yet. I couldn't wait to read it, though, because Eustace is one of my favorite characters.
Dawn Treader is moving very well. Michael Apted, who directed Amazing Grace, is directing it. He also directed Coal Miner's Daughter and a bunch of others. He's a great director. He's the president of the Directors Guild.
Screwtape on the other hand is just a really tricky adaptation.
I think a big part of being faithful to that work is keeping it dark in a way that's probably going to bother some people. I don't know how that works with movie profitability, but Screwtape always takes the approach of the demons. They have to be the heroes—even if they're tragic heroes—for it to be faithful to what Lewis did.
We're trying to find that balance between the comedy and the stakes. We're working hard on the script. One of the questions we're asking is how do you show the real transformation that happens inside a person.
Screwtape keeps encouraging the patient to go through the motions in his daily life and work.
You just nailed the entire paradox of this project. The book is so clever, because Screwtape is saying things like, "Have them write the check out to Unicef." Just have him writing, saying, "Oh boy, this is going to hurt." It goes back to that great Corinthians passage, you can do all of these things, but if you do them without love, it's worthless. We're trying to figure out how to illustrate that. What I love about Screwtape, what I love about the Gospel is all this external behavioral stuff that too often people confuse as central to our faith, is just an element of it. What really matters is the outpouring of love and the reflection of love.
It strikes me how much "God is love," and when we love what we're doing and when we get other people to love it, there's truth in it. I'm excited to see what comes out of it.