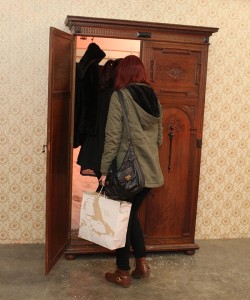 This Christmas at Pop Up Screens, they wanted to do something different and something magical for Christmas, so they're taking inspiration from C.S. Lewis and The Lion, The Witch and The Wardrobe and filling a cinema full of snow, but you can only get into the cinema via their very own magical wardrobe.
Pop Up Screens is going to be at the spectacular 20th Century Theatre in Notting Hill for 8 days in which time you'll not only be able to watch The Lion, The Witch and The Wardrobe, but also other Christmas greats like Elf, Home Alone or for the children of the 80's Santa Claus The Movie (that's right, that's the one with Dudley Moore as an elf!)
Dave, the founder of Pop Up Screens, described what they're trying to do with their Christmas pop up:  Christmas needs to be exciting and fun and magical so we put all those emotions into a blender, sprinkled in what we learnt from last year and have come up with a bigger and better and more snow filled cinema experience than ever.  It's genuinely exciting for us to put this on, so hopefully when you venture through the wardrobe into the cinema you'll be transported into a different world that shaves 15 years off your age so you can shamelessly play in the snow too.