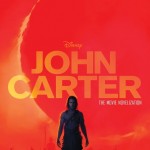 I wrote this article about two years ago, but decided not to publish it then, because of the reaction from a few people. I decided that it's time to publish it, however. Over the past few months I've been thinking about this concept.  It's actually something that has been rolling around in my head for many years, but I've always known how people would react to it.  The response would be extremely negative.  In fact, when I posted this article in a pair of groups on Facebook to get feedback, that's exactly the response that I got.  One person called the mere idea a travesty.  Much discussion followed, and I've heard the most negative of reactions to this idea possible.  To those that will, inevitably, also hate this idea: you have been heard.  Take comfort in the fact that this project is only in my own mind, and not something that I expect to ever actually come to fruition.
The idea resurfaced when I saw a book on the shelves at Barnes & Noble.  The book was John Carter: The Movie Novelization.  It's a very thick book that is 555 pages long and is based on the motion picture screenplay.  On the inside of the book it says the following:
John Carter: The Movie Novelization by Stuart Moore, based on the screenplay by Andrew Stanton & Mark Andrews and Michael Chabon, based on the story A Princess of Mars by Edgar Rice Burroughs.
Also includes: A Princess of Mars by Edgar Rice Burroughs.