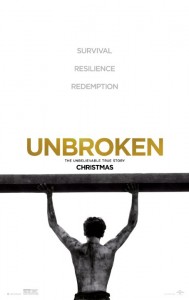 Welcome to Outside the Wardrobe Reviews, where we take a look at a recent movie that isn't set in or around the world of Narnia. I was asked to write my thoughts on a recent movie called Unbroken. It is a film based on the life of Louis Zamperini. It was directed by Angelina Jolie.
This film is not for very young children, as it is quite intense at times, and it deals with themes that aren't appropriate for the very young. You see, Louie Zamperini was an Olympian who wound up fighting in World War II. During that time he wound up floating in the ocean for over forty days on a life raft. During this portion of the movie, I thought that was all that the movie would be about, as it lasted a very long time.  But the movie goes further into the story, as Zamperini and another soldier are rescued from the ocean… and promptly imprisoned by the Japanese Navy who found them.
This is not the feel good movie that it's advertised to be. The ads show a lot of Olympics and training, but all of that happens within the first third of the movie. They're used as flashbacks during that part of the movie, but after the flashbacks stopped, I found myself wishing there were more during the rest of the movie. This is especially true as it feels like we're watching scene after scene of Zamperini being beaten, either by those running the concentration camp, or a time they forced all of the other prisoners to punch Louis in the face, one by one.