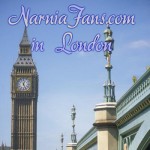 We've landed and we're now at the hotel in Falmouth, in Cornwall. I was unclear about the final destination until now, and we had a four and a half hour drive from Heathrow in London. It's been terrific so far. Our driver, Christian, is a really nice guy and very helpful. We have had a blast so far.
We had free time after we got to the Hotel, so we went for a walk and what did we find in the harbor? The ship!

We've been recording some videos, but not a lot of things yet. We also met some contestants tonight. I'm floored by just how kind everyone has been. It has been a real joy, so far, and we haven't even begun much of anything. Tomorrow morning we're heading out to the Dawn Treader, though, and the adventure will begin!
One thing to be aware of is that weather has caused a lot of plans to go differently than was planned for the event. I will give more details as I know them.
---