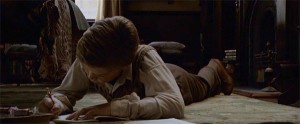 Group Publishing's Fun for the Whole Family Hour has been shipped, and I received mine yesterday. We've got them uploaded, and they're terrific. In case you are wondering, the music is a temporary score, which is used for many reasons. The composer, in this case David Arnold, is currently writing the music that will take over the score for this film.
If you're looking for something to do with a group of people at your church or youth group for an hour, look no further than Fun for the Whole Family Hour. Put together a family night. Included in the kit is a DVD with these clips and more videos related to the program. There is also a CD with music to learn from as well. Not only that but there is a 15 page leader's guide that you can use, so that you know what to say, and what to play and when to do it. It's an hour-long program in a box! Get yours today!
Major Spoilers!
The first clip is "The Adventure Begins." In it, you'll see Eustace has been writing in his Journal, which he promptly stuffs into his sock!
This second clip is called "Greedy Eustace." In this, he falls into the area with the treasure. There's not enough of it to tell if it's all in a cave or if there's a volcano nearby.

This third clip is called "Sea of Lilies." It features Eustace talking a bit about his time as a Dragon.

Learn more about Fun for the Whole Family Hour and get it for your group!
---