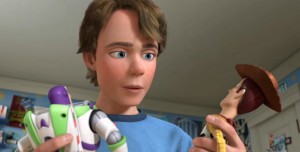 When I went to see Toy Story 3 last night, I opted out of the IMAX version, because I knew that I wouldn't be seeing the Narnia trailer with it. Narnia won't be playing IMAX (as far as we know) and they only show IMAX trailers with IMAX films. Toy Story 3 was incredible, by the way, and is likely one of the best movies of the year. It was funny, heartwarming and heartbreaking all at the same time.
Now, when the trailers started, we saw a trailer that was 2D for The Sorceror's Apprentice. After that trailer, the screen instructed us to put out 3D glasses on. After that, we saw 3-D trailers for Legend of the Guardians: The Owls of Ga'hoole, MegaMind, Smurfs, and The Voyage of the Dawn Treader. There were probably a couple of others in 3D, but those are the only ones that I can remember.
There were gasps from the audience and then comments like "I forgot about this series" and "Narnia meets Pirates of the Caribbean?" Boy are they in for a surprise!
Now, I also received an e-mail from someone that did not see the trailer in front of Toy Story 3 last night. That is disappointing, and it's likely the movie theater's fault, unless the trailer isn't attached to all copies of TS3. I would highly recommend asking the theater's concierge if the Narnia trailer is attached to all screenings of TS3. They usually have a master list of where all trailers are playing.
Was the trailer good in 3D? I'm going to say that overall, yes it was. There's always a problematic area when the camera pans quickly to the right, like it does in the first shot. That is even a problem in movies shot in 3D, such as Avatar. But the rest of the trailer was really pretty great in 3D. Especially when the snow was falling around Lucy. You felt as though you were a part of that magical moment. Not to mention there is still plenty of time for them to keep improving it before the December release.
---