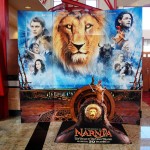 There is an 8 foot tall display that will be in theaters soon, for The Voyage of the Dawn Treader. It features many of the characters that appear on the big screen in the film, and a few that will leave people scratching their heads.
It is very similar to the huge banner that was on display at the Cannes film festival, but closer to what the actual poster will be. Not only that, but it's our first real glimpse of some of the new characters.
One that will be confusing to a lot of people is on the right hand side of the display.
That is Tilda Swinton on the right side, appearing again as The White Witch. I can tell you right now: do not be alarmed. It's not a big deal. She doesn't appear for very long. I'm not sure the screentime but it's likely to be shorter than in Prince Caspian. It's for a dream sequence and nothing more.
If you'd like to see more photos of the display, check this facebook gallery.
Update! New Super High Resolution Photos
These photos were sent to us exclusively by Narnia Fan Spy Bonnie, who found it set up near her home. Enjoy the clarity!
---