Ramandu Casting Announcement!
Voyage of the Dawn Treader is in Post-Production and we have heard casting announcements for every single major role in the upcoming film except for one: Ramandu. The fact is, the writing staff here at NaraniaFans have known just who was playing this coveted role for quiet some time but were instructed to not post it until la set date. Now that date has come and we can share the good news with you all.
Actor Leonard Nimoy, best known for his performance as the beloved Vulcan Spock on Star Trek, will be playing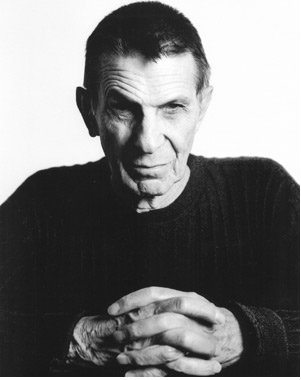 Ramandu! Nimoy, has been experiencing a bit of a career renissance with the recent Star Trek film and his guest spots on the TV show Fringe. He was also origianally slated to voice "the Fallen" in last summers Transformers: Revenge of the Fallen.
"He is a very serious actor, despite what people think, 'says our insider." He is a remarkably gifted and very talented and fits the role perfectly."
Some may be concerned that he may be too recognizable as Spock. However we have it on good authority that the same make-up artists who helped bring Gandalf and Saruman to life in LOTR will be working their magic on Ramandu.
"Nimoy's own wife didn't even recognize him on filming days!" Said one source.
NarniaFans spy, Loki has also informed us that Mr. Nimoy will also be contributing a song to the movies soundtrack. The song, tentatively called " The Ballad of The Dawn Treader" is expected to be a rousing follow-up to his classic hit "The Ballad of Bilbo Baggins" which you can see on YouTube.
And in the words of Mr. Spock.,"The needs of the many outweigh the needs of the few, or the one, as logic dictates"… As such, it is only logical that I tell you all…
APRIL FOOLS!!!!
Leonard Nimoy \"Ballad of Bilbo Baggins\"
---