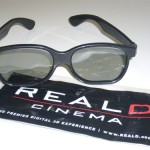 There is word that discussion is happening to run 3-D conversion on The Voyage of the Dawn Treader. This is very costly and very controversial at the moment, considering that 3-D is the hottest thing going in theaters at the moment. First this, from Deadline Hollywood: "Hard conversion conversations are being had now at studios on films that include Pirates of the Caribbean: On Stranger Tides, The Chronicles of Narnia: Voyage of the Dawn Treader, Gulliver's Travels and The Hobbit. Executives are weighing competitive issues and the potential benefits of higher ticket prices against the $100,000 per running time minute that is being used as a rule-of-thumb conversion cost." [Update: It's happening, but will screen in both 3-D and 2-D.]
Now, personally I've got nothing against 3-D. I really enjoy seeing films that are created with 3-D in mind, in 3-D. Avatar was the first live-action film shot in true 3-D. What does that mean? Well, James Cameron and a friend created a new camera that shot with two lenses side-by-side that would capture what your eyes see. The result is real 3-D. What you would have seen if you were on the set, walking through a scene, you see with the footage that you see in Avatar. That, my friends, is part of what makes it revolutionary. And I stress part. It's got many other things that make it revolutionary, but you can read about that elsewhere.
When it comes to 3-D conversions of live action movies (such as Clash of the Titans), or even stop-motion animation (like The Nightmare Before Christmas), it's what I like to call "fake 3-D," "forced 3-D" or "faux 3-D." It's not placing another lens in the shot, because that's impossible. Instead, it's taking the footage and altering the images to make things pop out in 3-D. It's what they're also doing with the next two Harry Potter films, and they're doing this with Titanic, and talks have been on-going for The Lord of the Rings and Star Wars. Disney also just finished converting Beauty and the Beast which I've heard was stunning, but that's 2-D animation so it's not as difficult to take line-drawings and separate them from the painted backgrounds and make it 3-D
These are things that I have a little bit of a problem with. It's not that it's a bad thing, it's just confusing for the general public. Take Alice in Wonderland for example. It's not real 3-D. Avatar is real 3-D. Alice in Wonderland is converted to 3-D. But people don't generally know that. It doesn't look the same, it doesn't feel the same, and it's not the same experience.
Now, there is a third variation. When Pixar releases their films in 3-D, such as the recent double feature of Toy Story and Toy Story 2, they actually went back into the original film, and added a second camera to every single shot, and re-rendered the entire film from beginning to end. It created a new experience for each film, and they took another look at each shot, making sure that they were all framed properly for the 3-D. Toy Story 3 was also done in that way.
But when it comes to Narnia in 3-D, converted, I don't know how I feel. On the one hand, taking this voyage in 3-D would be visually stunning. Really getting immersed into the oceans of Narnia could be quite breathtaking. Especially with what I've seen of the movie so far. We already know that doing 3-D as an afterthought will have no negative effect on the story. On the other hand, it was shot for 2-D, and I already felt drawn in by the magic of what I was seeing, and it was only five minutes of footage.
What do you think?

Loading ...
---