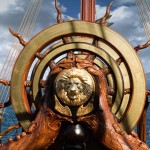 At long last, the story that I've been waiting so long to reveal to the world. Here is a very special Narnia story, that happened last fall, as described by publicist Ernie Malik.
What is it like to fall in love in Narnia?
by Ernie Malik
A curious question you may think. We bring it up here, while cruising along on our third voyage through this wondrous world created by C.S. Lewis, because the wonder of love did happen…to six couples who worked on both the first and second film adaptations.
Because of the lengthy hours (60-90 per week is the norm) and concentrated amount of time a movie crew spends together practicing its craft, it is only natural that acquaintances, friendships and even romance blossom on a film shoot. The camaraderie that develops among cast-and-crew is genuine and, in some instances, enduring.
Two of those six couples were married during production of the first film, "The Lion, the Witch and the Wardrobe," one being assistant director K.C. Hodenfield and his wife Roxie (a hairstylist on the show), who met on another Mark Johnson project, "The Alamo," and wedded in the quaint seaside village of Oamaru on New Zealand's South Island.
Same for another couple who met on that 2003 Texas-based production and exchanged wedding vows in Narnia (Fiji, actually) — production supervisor Rich Ê»Slab' Chapla and his lovely wife, Victoria Acosta, who worked in extras casting on Johnson's epic telling of the battle for Texas independence. One wonders if Johnson's Texas-based film was also a breeding ground for love!
Slab is back for the third movie, as is set costumer Samantha Morley, who also met her husband, Rob Gillies, on the first Narnia film where, she confesses, Rob fell head-over-heels for his future bride…literally, when he proposed to her while sky diving from 12,000 feet in the air (it was her idea, as Rob is afraid of heights…but love does strange things)!
There were others who also found love and romance in Narnia, some so discreet you sometimes never suspected it. And, who knows how many others, with no connection to the two movie productions, met under other circumstances having to do with either the book or the release of the two prior films.
Well, we know of one such couple who had their very first date at the cinema to see "The Lion, the Witch and the Wardrobe." His name is Paul Martin, her name is Courtney Addicott. While Paul did not work as part of the film crew on either project, he had a distinct connection to the movie franchise — he is the webmaster of www.narniafans.com, a Christian-laced fansite with over 5,000 members (and another 250,000 on the site's Facebook page) that has reported on the previous film productions to its global audience.
As a bonafide press contact for the movie studios producing the Narnia films, Martin did not get a chance to visit the sets of the two prior productions, which courted internet writers to report on the filming to its web audiences (he did attend the New York City premiere of "Prince Caspian," where he first met some of the cast).
For "The Voyage of the Dawn Treader," Martin journeyed some 8,000 miles to visit this set and its mighty, majestic title character as it sat out on the cusp of the South Pacific on the peninsula at Cleveland Point about midway up Australia's eastern shore.
But, Martin made the trip for more than business reasons (sure, you will read more about his visit on his website in the coming months). The world of Narnia is very special to the Michigan native, who started his website in 2003 once he heard a movie about the first book was being made. That book, and its subsequent six sequels, hold a special place in Martin's childhood.
In the early months of production on "The Lion, the Witch and the Wardrobe," Martin met Courtney at a youth services meeting in Grand Rapids, Michigan. They first became friends before Martin asked her out on their very first date in late 2005 — a visit to their local theater to see the first "Narnia" movie.
Now four years into their courtship, friends and family began asking the obvious question — was marriage in their future.
And, that's where the third film's title character played another role — as a backdrop for Martin's proposal of marriage to Courtney. That special moment took place just after Noon on Monday, September 21, a day after the couple had flown on three separate flights from Grand Rapids to Brisbane, Australia. Arriving a little more than 24 hours before he popped the crucial question.
On the first day of spring, where more than flowers bloom.
Of course, they just didn't show up on spec 8,000 miles away from their homes. Paul, through his contacts in the "Narnia" world, first approached co-producer Doug Gresham about his idea to propose on the deck of the Dawn Treader. That notion was relayed to the studio, which also endorsed this sweet idea.
As the cast and crew disembarked from the lifesize set for their daily lunch break, Paul and Courtney (who had no idea what was about to happen) climbed the 25-foot staircase and boarded the deck of the Dawn Treader. They scaled up one more deck to the wheelhouse (Lord Drinian's command post for the vessel), where Paul fell to one knee, pulled out a sparkling (and expensive!) diamond ring, and asked Courtney to marry him.
Such a long way to come to fulfill one's idea of love. What if Courtney had said no?
She screamed out a deafening Ê»Yes!', the two kissed and were congratulated by the entire crew upon entering the lunch tent a few minutes later (and, while not the offical wedding photographer, the film's stillman, Phil Bray, recorded the moment for posterity…and their forthcoming wedding album).
No date has been set for their nuptials, although Paul mentioned he hopes they can tie the knot sometime in 2010. How about the weekend of the film's opening (December 10), one suggests?
One also wonders if, whenever they exchange their vows, they will book passage on a cruise to celebrate their honeymoon.
For Paul and Courtney, they will always remember the Dawn Treader as their own personal Love Boat.
And, as they set sail into their future together, the world of Narnia as that special place in which they fell in love.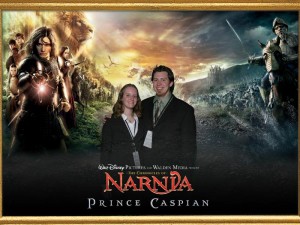 Courtney Addicott and Paul Martin – At the Prince Caspian Premiere in 2008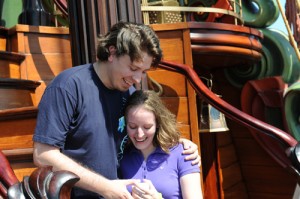 Paul Martin and Courtney Addicott on the Dawn Treader shortly after the proposal.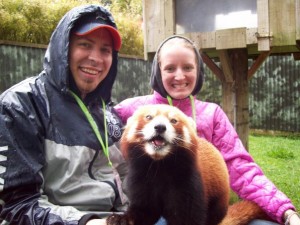 Here's one of me and Courtney with a Red Panda that we were feeding during our trip to Australia / New Zealand.
---