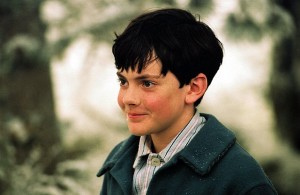 It's not easy being Edmund in "The Lion, the Witch and the Wardrobe." Three of the four Pevensie siblings are brave, heroic and all-around noble in C.S. Lewis' classic Narnia series. But Edmund causes most of the problems by taking the side of the evil White Witch.
And, ultimately, he makes the biggest change when he repents.
We wanted to know how 14-year-old Skandar Keynes feels about playing Edmund in the film "The Chronicles of Narnia: The Lion, the Witch and the Wardrobe." But we figured the best person to ask the questions would be someone who's tackled the part, too. Eric Kielczewski, 16, of Grand Prairie, Texas, played Edmund at Creative Arts Theatre & School in Arlington, Texas, in April. Skandar called us from his home in London to answer Eric's e-mailed questions.
First, however, we had to know how he felt when he got the role:
"I was on the bus going to school, and it was raining. They said they would call me on Thursday, and it was Friday, so I was down, not feeling too great. My phone rang, and they said, 'You've got the part!' They were yelling at me on the bus, 'Turn off your phone, boy!' so I said, 'Thanks! Bye!' I was cheering inside, though."
Q: What was the hardest part of developing the character of Edmund? For me it was making the live audience believe I had changed from evil to good (that and sustaining a British dialect).
Skandar Keynes: The emotional scenes were hard. I don't usually cry, and that was a challenging thing to do. But once I had done it, it was really rewarding. It is a great feeling doing something that challenges you.
Q: How did you film scenes with Aslan (the lion) since he was CGI (computer-generated imagery)?
Skandar Keynes: I only had one scene with Aslan where I'm nodding at him. I was really nodding at a rock. In scenes with the other kids, Andrew (Andrew Adamson, the director) and his assistants would act out Aslan's lines dressed up in green suits so they could be edited out.
[Read the rest at LJworld.com]
---