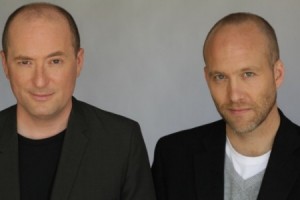 Christopher Markus and Stephen McFeely were the screenwriters on the first three Narnia movies. They were replaced during pre-production on The Voyage of the Dawn Treader, which lead to their work on the Marvel Cinematic Universe, having written Captain America: The First Avenger and Captain America: The Winter Soldier. They've already been signed to write Captain America 3, and may also work on the Agent Carter miniseries that could come to TV in the mid-season of Agents of S.H.I.E.L.D.
They spoke with SuperheroHype, who asked about The Silver Chair, even though Markus and McFeely are not writing the screenplay.
SHH: Before you guys go, I want to quickly ask about "Chronicles of Narnia," because I'm a huge fan of the books. Do you think there's a future for the movies as a franchise at this point and are you still involved at all?

Markus: They're trying to do a fourth one.
McFeely: Yeah, they're trying to do "The Silver Chair" right now but I don't think there's a studio.
McFeely: No, I think they switched producers, but "Silver Chair" I think is a good choice because it's a pretty coherent adventure that's not terribly tied to what comes before or after so you can make a really solid adventure movie and not get too bound up inside this other thing. It's three acts, it's literally a beginning, middle and end and it feels like a whole story. "[Prince] Caspian" was harder because it takes place a thousand years later and "[The Voyage of the] Dawn Treader" was really hard. We were kicked off that one. The problem with "Dawn Treader" is that it's a lovely book with no stakes. It's a philosophical exploration that needed to be turned into a heroic quest, but it basically just wasn't.
Markus: I look forward to them attempting to make "The Horse and His Boy" and "The Last Battle." It's an evil talking monkey!
McFeely: Wasn't there a donkey wearing a lion skin, something like that?
Markus: Yeah.
McFeely: We always thought that if we did "The Silver Chair," we'll crush that one, but everything worked out for a reason. If we stayed with that, we wouldn't be here.
Personally, I'm sorry that we lost them, as they're very talented writers. But I'm happy for them. They've been working on some of my favorite movies of the past few years, with the Captain America films and Thor: The Dark World.
David Magee is currently writing the script for The Chronicles of Narnia: The Silver Chair.
---