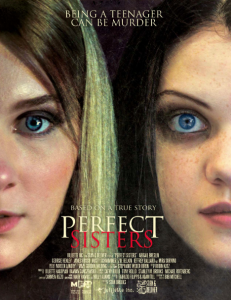 Not a news about The Chronicles of Narnia or C.S. Lewis but it's a news that fans of the Narnia films might know. Lucy Pevensie or Georgie Henley in real life returns to the big screen with this new horror, crime and drama film, Perfect Sisters.
Perfect Sisters gets a release date and it will be released this April 11, 2014. The film was said to be released last 2012 but was postponed to 2013 but now, we finally got a release date however it is not clear if it will be released worldwide. To add, the film was released in Canada for a private showing before. The movie stars Georgie Henley (Lucy Pevensie in the Chronicles of Narnia) and Abigail Breslin.
A few days ago, Yahoo Movies just released an article stating that the film finally gets a trailer! As most of us know, many fans of both Henley and Breslin are really waiting for the movie trailer and of course for the release date. The trailer is short and it is likely a teaser trailer.
The film is different from the past roles that Georgie Henley played in The Chronicles of Narnia. Well, we will see her in a different role and character in this film, a film which is about crime and drama. It is based on a true story, 2 sisters planned to finish their mother's life. More information about the film here on IMDB.
You may watch the trailer here:

For further information, please visit Yahoo Movies or Narnia Contintent
Stay tuned for more updates Narnians!
---