Hey, everybody! Welcome back to Tumnus' Bookshelf: The NariaFans Book Reviews where we review any and all books by, about, and inspired by CS Lewis, the Land of Narnia, JRR Tolkien and the Inklings. For today's review we will be looking at Devin Brown's new book, Hobbit Lessons.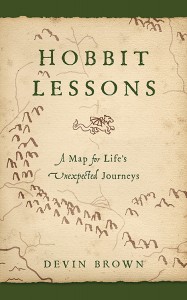 Title: Hobbit Lessons
Author: Devin Brown
Publisher: Abingdon
ISBN-10: 1426776020
ISBN-13: 978-1426776021
Summary:
Author and professor Devin Brown returns to the land of Middle-earth in his brand new book Hobbit Lessons.  Concise and to the point, Professor Brown examines some of the moral lessons readers can glean from the Hobbit and the Lord of the Rings. Steering clear from the usual allegorical interpretations that is usually seen in most devotionals, Brown instead looks at various lessons that can be found directly in Tolkien's work. From such timely themes as courage, friendship, loyalty, humility and compassion, readers will find that there is plenty to learn in the wide world of Middle-Earth.
Divided into four chapters, Hobbit Lessons looks at key moments in The Hobbit as well as some moments from The Lord of the Rings. Ending each chapter in a series of discussion questions, readers will find themselves reflecting upon a series they otherwise wouldn't have given a second thought.
Review:
With not one, not two, but three Hobbit movies slated for theatrical release, there will no doubt be a bumper crop of books examining The Lord of the Rings and The Hobbit for quite some time to come. Leave it to longtime friend of NarniaFans, Professor Devin Brown, to write another delightful book examining Tolkien's mythology. Any one of his books on The Chronicles of Narnia and The Hobbit are welcome editions to the ongoing analysis of these two legendary worlds.
So what makes Hobbit Lessons so different from his last book, The Christian World of The Hobbit? For starters while Christian World looked specifically at Tolkien's faith and how it shaped his mythology, Hobbit Lessons looks more at the important life lessons that can be gained from Tolkien's world and applied to our daily lives. This book is, essentially more of a devotional then the last one.
It seems strange to think that a book about Elves, dwarves, wizards and Hobbits can teach anyone anything of any real importance or value. Yet, because The Hobbit is part of a mythology, it means that like all great myths and legends, and indeed all great stories, there will be moral applications and lessons to learn from them. Each chapter ends with a series of discussion questions. Unlike the questions in the Inside Narnia books that could help facilitate discussions on the books themselves, these questions ask you to take more of a look at yourself and your own life and work out the "applicability" of the mythology of Middle-Earth.
As it has been well documented, Tolkien disliked allegory, at least the intentional and forced allegory. Appropriately, this is not the usual devotional book that looks at Gandalf as a Christ-figure, Gollum as the devil, and the One Ring as Original Sin, but rather looks at real lessons that Bilbo, Frodo and their friends learn along their respective journeys. All the lessons contained in this book can be clearly seen in The Hobbit and Lord of the Rings such as friendship, selflessness, and courage. Even those familiar with the world of Middle-earth through the films, would be familiar with many of the lessons.
Brown also draws parallels to the Parable of the Rich Fool, the story of King Midas and even the Prayer of St. Francis. A quote from CS Lewis does show up a time or two, but not to the extent that it did in his last book. The focus of Hobbit Lessons is to reflect upon The Hobbit and LOTR themselves, while drawing from Tolkien's own letters and essays and experiences to honestly look at what Tolkien would have wanted readers to learn.
This book, like Christian Word of the Hobbit, also features illustrations. While some contained in this book also feature in Brown's former work, there are plenty of brand new illustrations to engage readers. While The Inside Narnia series didn't have, or need any, as it was largely literary analysis, there is something fitting about both this book and Christian World of the Hobbit having them.
There are some spoilers for the end of The Hobbit. However, at this point the book is 75 years old and much of it should be common knowledge. If you are one of those few people who did not read it as required reading for junior high English and are waiting until the last of Peter Jackson's movies comes to theaters, you may want to skip this book until then.
There is plenty for fans new and old to gather from The Hobbit and Devin Brown helps unpack it all. Readers will see in the end, just why CS Lewis once said of The Lord of the Rings, "here are beauties that pierce like swords and wound like daggers… good beyond hope."Like the eponymous hero of Tolkien's book, Hobbit Lessons is short, but what this book may lack in length makes up for in heart.
This book would make for an excellent gift for any young Inklings fan who  is heading off on their "own adventures" be it starting high school, going off to college, studying abroad or leaving on missions trips. Longtime fans are sure to appreciate Brown's scholarship and insights, some which are so ingenious fans may be surprised they didn't see them before. Devin Brown continues to do fans of both Narnia and Middle-earth a service through his analysis. Keep them coming!
Five out of Five shields.
Order the book from Amazon.com
---