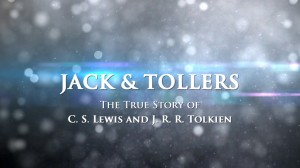 We've heard some very good news this week.  There is, in fact, a film about C.S. Lewis and J.R.R. Tolkien coming in the very near future.
Written by Darren Jacobs and Dr. Louis Markos, this is a film that has been planned for many years.  It's a dream project for everyone involved, and they want to make the best movie possible.  One that captures the friendship of these two writers in a very real way.
Here's a description from their Indiegogo campaign page.
Many know that C.S. Lewis wrote THE CHRONICLES OF NARNIA.  Most know J.R.R.Tolkien wrote THE LORD OF THE RINGS. Each of these series have sold more than 100 million copies, translated into dozens of languages and enjoyed the world over in cinema.
What most do not know is that Lewis and Tolkien were close friends. Their unique friendship, one that was turbulent, supportive, joyous and raucous, helped create two of the most iconic stories of the 20th century.
JACK AND TOLLERS is the true story of the friendship of Lewis and Tolkien.  It will give you a glimpse into the souls of these incredible Men of Letters. Until now, there has never been a major motion picture depicting their unique friendship.  For the global fan base of both authors and indeed the fantasy genre itself, we are excited to
say that the time has come to move forward into production.
The movie is already funded, but they're running the campaign so that fans like us can be a part of the movie, so let's get behind it in a big way, and like their page, and share it.  Please do us a favor and like their page.
---