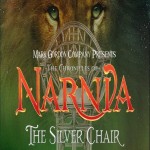 The Chronicles of Narnia: The Silver Chair film update!
The Mark Gordon Company and the C.S. Lewis Company have chosen David Magee to write THE SILVER CHAIR script–the next Narnia movie. David Magee is known in his screenplays for the films Life of Pi and Finding Neverland.
David Magee stated, "I have always loved The Chronicles of Narnia and I endlessly imagined myself finding my own passage into Narnia someday. All these years later, I'm getting to fulfill that wish just a little bit by writing the film adaptation of 'The Silver Chair' and could not be more excited about it."
To keep updated with movie developments follow THE CHRONICLES OF NARNIA on Facebook at: https://www.facebook.com/TheChroniclesofNarnia
Stay tuned for more Narnia news!!!
---