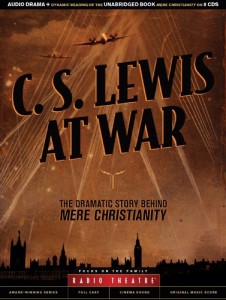 I just found this audio drama on Amazon.com today, called C.S. Lewis at War: The Dramatic Story Behind Mere Christianity.  Paul McCusker, the man behind the Chronicles of Narnia Radio Dramas has done it again, creating this new radio drama for Focus on the Family Radio Theatre.  Now, for the first time, the dramatic story of the life of C.S. Lewis and the events behind the creation of Mere Christianity and The Screwtape Letters are played out with a full cast of award-winning actors including John Rhys-Davis; and an original music score — recorded in London, England, and on location in C.S. Lewis' Oxford home. Also included in this package is a new, dramatic reading of Lewis' Mere Christianity — capturing the clarity, intelligence and wit of Lewis' words in a way not experienced before.
Mere Christianity, one of the greatest Christian books of the twentieth century, was created as a series of radio broadcasts in a time of great conflict and adversity. England had gone to war with Germany. Injury and death impacted everyone. Day-to-day living was immensely difficult. Children were evacuated from London and sent to other parts of the country (Lewis himself took in a few). It was a time of strain, heartbreak, and weariness.
The leaders at the BBC knew the nation needed a moral underpinning to face the crisis and embarked on an aggressive program to provide it. So they commissioned some of the greatest Christian minds to step up. Dorothy Sayers and Lewis agreed to help. From Sayers came the classic radio series Man Born To Be King and from Lewis the now-famous Broadcast Talks that became Mere Christianity. This behind-the-scenes drama integrates the ideas Lewis explored in Mere Christianity with the very real impact of living out a Christian life in a period of trauma: the conflicts pressed hard against the times of grace, compassion, the love of Christ shown to neighbors, and the reasons to trust in God when the world screams otherwise. This Radio Theatre production also touches on the essentials the faith and worldview, not merely as an academic exercise, but as a true life experience.
Order C.S. Lewis at War from Amazon.com, Today
---