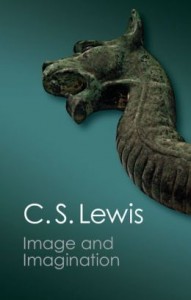 A new book published this week features reviews that C.S. Lewis wrote on J.R.R. Tolkien's books The Hobbit and each part of The Lord of the Rings.  That book is called Image and Imagination.
This selection from the writings of C. S. Lewis gathers together forty book reviews, never before reprinted, as well as four major essays which have been unavailable for many decades. A fifth essay, 'Image and Imagination,' is published for the first time. Taken together, the collection presents some of Lewis's finest literary criticism and religious exposition. The essays and reviews substantiate his reputation as an eloquent and authoritative critic across a wide range of literature, and as a keen judge of contemporary scholarship, while his reviews of The Hobbit and The Lord of the Rings will be of additional interest to scholars and students of fantasy.
This book is available in paperback and for Amazon Kindle.
Here's a short excerpt from Lewis' review of The Hobbit to give you an idea of what you'll find in this book:
Though all is marvellous, nothing is arbitrary: all the inhabitants of Wilderland seem to have the same unquestionable right to their existence as those of our own world, though the fortunate child who meets them will have no notion—and his unlearned elders not much more—of the deep sources in our blood and tradition from which they spring.
For it must be understood that this is a children's book only in the sense that the first of many readings can be undertaken in the nursery. Alice is read gravely by children and with laughter by grown ups; The Hobbit, on the other hand, will be funnier to its youngest readers, and only years later, at a tenth or a twentieth reading, will they begin to realise what deft scholarship and profound reflection have gone to make everything in it so ripe, so friendly, and in its own way so true. Prediction is dangerous: but The Hobbit may well prove a classic.
---