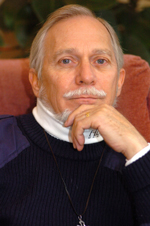 A brief update from William O'Flaherty, who was in attendance at Douglas Gresham and Dr. Devin Brown's event:
Douglas Gresham (Lewis's step-son) spoke at Asbury University today. When the question of the future of the Narnia films came up he was confident there would be more (and hopeful other fictional works by Lewis would be made); but was regretful that no official or unofficial details could be shared at this time.
While this isn't the news that we were all hoping for, it's at least something.  I'm definitely hopeful that the series will continue, even though it will likely continue with new actors in some of the roles.  Actor changes are actually fairly common in the film industry and things work out fairly well.  In Christopher Nolan's Dark Knight Trilogy, Katie Holmes was replaced after Batman Begins.  The same thing happened when Stargate made the move to TV with Stargate SG-1.  Kurt Russell was replaced with Richard Dean Anderson, and James Spader was replaced with Michael Shanks.  All this to say, if the films continue with Narnia 4, we might get someone new, but that doesn't mean that it'll be bad.  It could be amazing!
It's also really cool that he hopes to bring other works of fiction by C.S. Lewis to the big screen.  What would you like to see most?
William continues:
I (William O'Flaherty) will be recording a podcast interview in the morning with him and will try to at least get a guess as to how soon he hopes to have any official news.
---