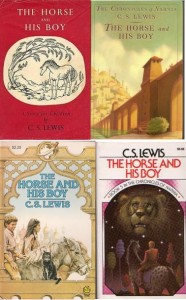 Today (9/6) marks another anniversary for the publication of The Horse and His Boy. Fifty-nine years ago (that's 1954, if you didn't know) this fifth published book became available. More recent editions list it as the third book in the series, but that's another topic altogether (see Confused about the Narnia Book Reading Order? if you want the details). Not to add to the confusion, but did you know that Lewis actually finished writing The Horse and His Boy before The Silver Chair?
Other interesting facts about The Horse and His Boy are:
– It was completed (by spring 1950) around the time The Lion, the Witch and the Wardrobe was published (October 16, 1950).
– It took Lewis slightly more than three months to write.
– In The Silver Chair a blind poet tells the events that happen in The Horse and His Boy.
– It is dedicated to David and Douglas Gresham (whom mother Lewis later married).

– Alternative titles for the book were: The Horse and the Boy; The Desert Road to Narnia; Cor of Archenland;The Horse stole the Boy; Over the Border and The Horse Bree.
– A stage play adapted by Glyn Robbins premiered September 25, 1990 at the Charter Theatre, Preston.
– Lewis's friend (who was also a former student), Roger Lancelyn Green, read this and all the other Narnia stories BEFORE they were published.
Do you have any favorite quotes from The Horse and His Boy? If so leave them below in a comment.
Here's some of mine:
"Child,' said the Lion, 'I am telling you your story, not hers. No one is told any story but their own."
~~~~~
"We're free Narnians, Hwin and I, and I suppose, if you're running away to Narnia, you want to be one too. In that case Hwin isn't your horse any longer. One might just as well say you're her human."
 ~~~~~
"Oh hurrah!" said Shasta. "Then we'll go North. I've been longing to go to the North all my life."
 ~~~~~
 "Who are you?" he (Shasta) said, scarcely above a whisper.

"One who has waited long for you to speak," said the Thing. Its voice was not loud, but very large and deep.
  ~~~~~
 "Father! Can I box him? Please!"
---