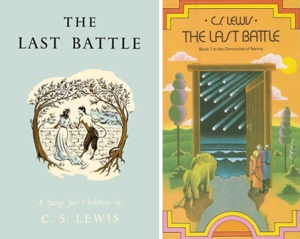 Nearly sixty years ago today the final book in Narnia series was released in England. The Last Battle came out in the U.K. on March 19, 1956 to the great anticipation of many just ten months after learning about how Narnia started. Now with this book children and adults alike would learn of how it ended in a final battle. Not many are aware, however, that Lewis actually finished The Last Battle before completing (the now listed as the first book) The Magician's Nephew. In fact according to a letter by Lewis himself written March 2, 1953 he had just finished writing the ending story to Narnia. Another couple of other little known facts about this book is that is the only in the series that it is not dedicated to anyone and that it won the Carnegie Medal in Literature (you can learn about other events in Lewis's life at my site EssentialCSLewis.com where I do a weekly series about what happened in his life over the years).
I recall when first reading this book about how the style was so much different to me…but not in any bad sense. While it is not the only story in the series that begins in Narnia it had a different tone to it; this was likely because of the undeniable fact that the beloved land was ending as stated by the opening line, "In the last days of Narnia…" The interaction between Shift and Puzzle had me almost saying out loud to Puzzle, "How can you let him twist everything to make it all about him!"
One of the many good quotes touches on a key theme found in the book.
"I have come home at last! This is my real country! I belong here. This is the land I have been looking for all my life, though I never knew it till now…Come further up, come further in!"
The depiction of Heaven given in The Last Battle is the most fully developed pictures of it found in any of Lewis's writings.
The skeptical dwarves who refuse to be "taken in" (from chapter 13) has always stood out in my mind. That chapter ends with Aslan stating,
"They will not let us help them. They have chosen cunning instead of belief. Their prison is only in their own minds, yet they are in that prison; and so afraid of being taken in that they cannot be taken out."
Let me know your favorite parts in The Last Battle with your comments below!
---