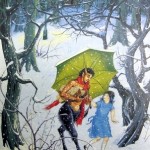 The late Pauline Baynes illustrated hundreds of books and created iconic images associated with J.R.R. Tolkien's The Hobbit and The Lord of the Rings and C.S. Lewis' Narnia series.  Baynes, an artist who breathed life into much-loved literary characters through her intricate illustrations, will be honored in a Christmas exhibition.
The Museum of Farnham is set to celebrate her life and work with a festive exhibition of more than 30 illustrations.  The exhibition, An Artist's Imagination, opens this Saturday (December 1) and runs until January 12. The Museum of Farnham is open Tuesday to Saturday between 10am and 5pm.  Farnham is a town in Surrey, England.
Museum curator Liz May hopes the event will open up Baynes' works to a bigger audience as well as give due attention to her wider body of work.  She said: "There can't be many residents who aren't familiar with Pauline Baynes' illustrations – quite possibly without knowing they were created in Farnham.  She seems to have had an extraordinary talent to tap into the minds of the authors. There's a famous quote from Tolkien which is often mentioned, when he said she had 'reduced my text to a commentary on her drawings'."
It was Tolkien who introduced the artist to his friend Lewis, who then commissioned her to work for his Chronicles of Narnia. An iconic image of Lucy and Mr. Tumnus meeting in The Lion, The Witch and The Wardrobe was drawn by Baynes.
Ms. May said: "A lot of her known work is what she drew for Tolkien and Lewis, but we wanted to give a broader picture of her work in general in the exhibition."
The display was put together with the help of the Chapin Library in America, which holds the complete archive of Baynes' works, made up of thousands of illustrations for books and magazines.
The works she created for both Tolkien and Lewis were drawn in Farnham, including intricate maps she created of Narnia and Middle Earth.
---