Hey, everybody, welcome back to Tumnus' Bookshelf: The NarniaFans Book Reviews, where we review any and all books by about and inspired by CS Lewis, The land of Narnia and The Inklings. For today's review we will be looking at the new book The Unofficial Narnia Cookbook!
Title:The Unofficial Narnia Cookbook.
Author: Dinah Bucholz
Publisher:Sourcebooks Jabberwocky (November 1, 2012)
ISBN-10:1402266413
ISBN-13: 978-1402266416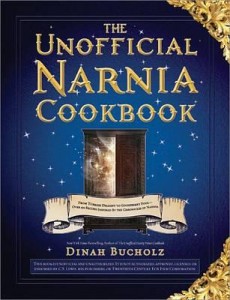 Summary:
Just in time for those special occasions, comes the Unofficial Narnia Cookbook. Have you ever wanted to make a real tea, like the kind Tumnus serves Lucy , complete with sardines? Perhaps you fancy your own Turkish Delight? Maybe you would like a feast fit for a king, like the kind that would have been served for coronation at Cair Paravel.
Now at last you have your chance. Containing over 150 recipes, this book is a culinary journey into the land of Narnia. This includes a dinner with the beavers including fried trout, boiled potatoes with butter, homemade white sandwich bread, gloriously sticky marmalade roll, and tea. There is also a  Christmas dinner, just like the one Father Christmas would have delivered, including a roast goose with fall berry dressing, easy cranberry sauce, mashed potatoes with onion gravy, plum pudding, and Christmas biscuits.
Review:
If you ask most people what they think of when you mention the word "Narnia", they will no doubt mention the Biblical allegory first and foremost and then the major characters. Then maybe they may mention the unimportant and trivial aspects like the travels between our world and Narnia, the wardrobe, the mythical characters, and the talking animals. However one part they often forget is the food. The only exception is Edmund and the Turkish Delight.
However in this brand new book, The Unofficial Narnia Cookbook, we see just how important a detail food was to Narnia .In fact there are over 150 recipes for different meals based on the beloved chronicles from The Lion, The Witch, and The Wardrobe to The Last Battle. In his letter on writing to children, Lewis responded to the accusation that Tumnus taking Lucy to tea was something else, he said that he put it in because he loved to eat.
Unlike a lot of movie based cookbooks the author doesn't just tack a Narnia based name onto a dish. Rather they are based on specific scenes from the books. Since Lewis was British and many of his meals were as well, there is also good deal of historical facts about different British customs, traditions and meals. This includes an authentic recreation of a Christmas dinner as served by Father Christmas, real Turkish delight, and many other mouthwatering meals. There is also a full recipe for a medieval style feast like the one that would have been served at the coronation of the Pevensies.
This book is especially helpful to fans who would love to buy the original Narnia Cookbook, but can't because it is out of print, and the lowest prices on Amazon, not including the e-book, is prices at 83 dollars. A look at Amazon reveals many fans looking for just this kind of book again. On top of that, this book has even more recipes then the original. Much like the earlier book, and most cook books in general, the recipes in the book are divided by meal ( ie. Breakfast, tea-time, and dinner.)
Many of these meals take a great deal of time and preparation and are most definitely not ones to make when you are in a hurry to get the kids to soccer practice, church group, music lessons, under water basket weaving, and every other event they have .These are meals that you sit down, savor and enjoy. Many of these recipes also include ingredients that may be "foreign" to many of the younger American readers. As such if your child is a very picky eater who only will eat macaroni and cheese, Happy Meals, pizza, and hotdogs you may want to wait until they are out of that phase of life.
However because of the time and work involved it is sure to help make quality family time. There are even some fun recipes for adults (as there were grown-ups like Puddlglum and the dwarves in the book.) Because of the great amount of historical and literary detail, as well as the great meals in store, this book is sure to be a feast for the mind as well as the stomach. If you want to add something fun to make for those most special off occasions, this cookbook is the best place to start.
Five out of five shields
Buy it on amazon.com
---