The holidays are fast approaching and NarniaFans has decided to help make your Holiday just a little easier .Want to get something for that fan that has everything? Can't figure out what to get your mom or dad? Need something for that literature savvy friend of yours? Looking for some new fantasy books for your little sister who has worn out her copies of Narnia? Or maybe you just want a little something special for yourself because money has been tight. We at Narnia Fans are here to help you, with some help from Father Christmas and a few of our  friends.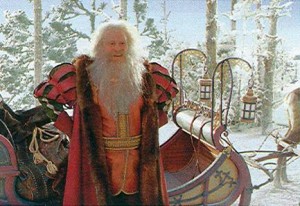 Most of you all remember the scene from The Lion, The Witch, and The Wardrobe where Father Christmas arrives in Narnia and gives to Peter, Susan and Lucy gifts for the upcoming battle. While we will not be sending you weapons, horns, or a healing cordial, we will send you something just as good.
We have assembled a prize pack for you. It will include The  Wolf of Tebron, The Map Across Time, and The Unraveling of Wentwater from CS Lakin's Gates of Heaven Series, plus an advanced copy of book 5 in her series , Devin Brown's Inside Narnia and The Christian World of The Hobbit and a copy of the new book The Unofficial Narnia Cookbook.
To enter just send a Letter to Father Christmas to us via the comment section, The Dancing Lawn Forums, or our standard contact forms. If you choose to submit a letter via contact form, please write "Father Christmas Letter" in the subject line. Please include your name, ask Father Christmas a question, tell him what you'd like for Christmas, why you would like the grand prize, and what you would do with the grand prize should you receive it. All letters must be submitted by Midnight on November 30th, 2012, Central Standard Time.
Merry Christmas, and Long Live Aslan!-Your friends at NarniaFans.
UPDATE: This contest is now closed.
---