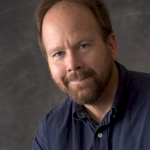 Hey, everybody, welcome back to Through a New Wardrobe: The NarniaFans.com Interviews. We have an exciting two-part interview series with our long-time friend, Devin Brown, author of the Inside Narnia Series. We will be discussing his brand new book, The Christian World of The Hobbit.
For the first part of our series, we'll catch up with Devin, how he came to discover Tolkien's The Hobbit and Lord of the Rings, his courses at Asbury College on Lewis and Tolkien, and, yes, the status of Inside The Silver Chair.
NarniaFans: Devin, you have been a friend of NarniaFans for a long time. Tell us what you've been up to since we last spoke to you.
Deven Brown: Besides my normal duties in the English Department at Asbury University, I do a fair bit of speaking.  I spoke at the wonderful Lewis Conference at Taylor University over the summer.  I also showed the documentary titled C. S. Lewis: Why He Matters Today which I wrote and helped produce.  I also have been busy writing.  Right after The Voyage of the Dawn Treader came out in 2010, I started work on a new book titled The Christian World of The Hobbit which had just been released in advance of the upcoming film.
NF: Let me ask what a lot of fans are wondering: will we be seeing a new Inside Narnia book sometime soon?
DB: There are two kinds of publishers for a book-about-a-book: a non-profit university press for something more academic or theoretical, and trade book publishers who sell to a general, educated audience.  A university press book will often sell fewer than a thousand copies, but since the press is non-profit and the books are quite expensive, this is not a problem.  So far I have published with trade book publishers, and this means that there needs to be a film to generate sufficient interest to sell enough copies for it to be worth their efforts.
This is a long-winded answer to say that on the day that the film adaptation of The Silver Chair is given a green-light, whenever that may be, I hope to start writing Inside The Silver Chair.  Without a film, the numbers don't add up for the kind of publishers I have been working with.
NF: Something many of our readers may be unaware of is the fact that you actually teach a class on Lewis and Tolkien as Asbury University. Tell us a bit about this class.
DB: I teach a literature class on the fiction of Lewis and Tolkien.  We also have a philosophy class at Asbury where they read Lewis's apologetic works.  The biggest problem has to decide what not to cover, since there is not enough time to do it all.
The half of the semester we spend on Tolkien is relatively easy: we just do The Hobbit and The Lord of the Rings.  There are always a couple Tolkien geeks who make a point of saying that they can't believe we're not reading The Silmarillion, which they claim to be Tolkien's best work, but for the most part there aren't many complaints.
The problems come with the Lewis half of the semester.  You have to do The Screwtape Letters.  And chronologically it comes first.  But do you do all of The Chronicles of Narnia?  If you do, you won't get to that many of Lewis's other fictional works like the three books of The Space Trilogy or The Great Divorce.  If you leave out some of the Chronicles, I promise that whichever ones you skip are sure to be somebody's favorite.  I confess that I have never taught Till We Have Faces in the class, a fact that I am sure will horrify some Lewis fans reading this.
NF: How popular is your course? I know back when I was in college, classes like yours would have a "first come, first served basis" when it came to registration because they were so popular.
DB:  Yes, it is a bit of a public relations nightmare because for each student who is happy that he or she got in the class there is another student whose mother is calling the dean to ask why we can't make the class bigger.  I usually try to limit it to between 25 and 30 students.  Otherwise it gets too big for good discussion, which, as you might guess, there is always lots of.
NF: Do you expect an influx of students to sign up for your class with The Hobbit movie releasing in theaters this year?
DB: Yes, it's curious you mention it.  Unlike me, all of my students grew up knowing Lewis and Tolkien.  This is the one class I teach where I always have a large number of students who have already read all the texts before the class starts.  Some have read them multiple times.
When I first started teaching the class, the film adaptation of Fellowship had just come out, and there was a good deal more interest in Tolkien than Lewis.  Then when the Narnia films started to be released, it was just the opposite—there was more interest in Lewis.  I am guessing now it will swing back the other way to Tolkien for the next few years.
NF: How and when did you become a Tolkien fan?
DB: Growing up on the blue collar, south side of Chicago, I had never heard of Tolkien and did not know anyone who had.  I was one of those kids who went to the town library every Saturday and checked out my limit of 5 books each week.  One summer my parents were going to take my two brothers and me camping—something they loved, especially my dad, but I was not crazy about.  Anyway knowing that we were going to be sitting around a picnic table in the woods for two weeks, I grabbed the fattest books off the shelf I could find.  I can't remember what the fifth book was, but the others were the hardcover editions of The Hobbit, The Fellowship of the Ring, The Two Towers, and The Return of the King.
I had no idea that The Hobbit came first chronologically, so I started to read Fellowship first.  I think there might have been a number one on the cover somewhere.  I was in middle school at the time, which may help explain what happened next.  You know how Tolkien assumes a narrative posture in the Prologue like he is just reporting a true story from Bilbo's Red Book of Westmarch?  Well, for about 30 pages or so, I thought it really was a true story.  Very dorky, I know.  But for 30 pages to think that there really had once been a small race of people called hobbits that walked the earth—it was very cool for a seventh grader.
NF: Huh, Reading The Hobbit and LOTR while on a camping trip. Why does that sound strangely fitting?
DB: Oh, I don't know. Reading the books with sitting on a concrete picnic table in a State Park in Indiana was not exactly the Shire and certainly wasn't Lothlorien.
NF: Did a publisher contact you about doing a book on The Hobbit?
DB: I had some early conversations with Bob Hosack, who was my editor at Baker for the Inside Narnia books. But Baker already had a Tolkien book by Matthew Dickerson that they planned to repackage and rerelease. Bob put me in touch with Lil Copan at Abingdon, and fortunately she liked the idea.
The Christian World of the Hobbit is a bit of a departure from your Inside Narnia Series. What spurned your desire to do a book on Tolkien?
DB: I suppose I could answer this question several ways.  First, I have always been a huge Tolkien fan.  In fact, I actually discovered Tolkien first, before Lewis.  Second, while there have been lots of books published about The Lord of the Rings, there have been very few books written about The Hobbit and almost none on the faith elements we find there.  Finally, perhaps you have heard Peter Jackson is making a series of films on The Hobbit and the first one is going to come out this December.
Be back tomorrow for Part Two of our interview series.
Update: Check out the official trailer for the book bellow.
---