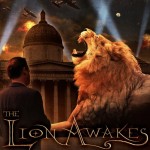 Something cool is coming, and you're all going to be the first to know about each aspect of the film as it moves along.  The story of C.S. Lewis is coming to the big screen in a film called The Lion Awakes.  It's been in the works for over three years, and now it needs your support.  To help, please consider doing the following, and then share with friends. Spread the word, share links to these accounts with your friends on these networks:
Like The Lion Awakes on Facebook
Follow The Lion Awakes on Twitter
Follow @TheLionAwakes

Circle The Lion Awakes on Google+

More to come!
---