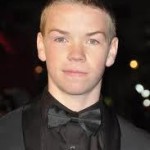 If you're looking for the cast of Narnia on Twitter, there aren't too many. Will Poulter has just joined, though, and you can find him at @PoulterWill!  As far as we know, he's the only main cast member to have a twitter account.  All others are fakes.
Will is one of the nicest guys that I've ever met, period.  Don't overwhelm him with comments, a simple welcome will do.  Be kind, he doesn't have time to answer everyone.  He played Eustace Clarence Scrubb in The Chronicles of Narnia: The Voyage of the Dawn Treader.
If you're on Twitter, follow him, and follow us.
---