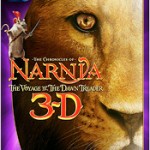 It looks like Best Buy has gotten a jump on the competition and released the 3-D Blu-ray of The Chronicles of Narnia: The Voyage of the Dawn Treader today. You need a 3DTV and a Blu-ray 3D player (or a PS3 with the latest updates installed) to play the film in that format.
For those that don't know: Blu-ray 3D is a standard that is separate from Blu-ray. It uses Blu-ray media, but takes different technology to read. Why only the PS3 was allowed to get a firmware upgrade that would make playing Blu-ray 3D discs possible is beyond me. It might just be, because Sony owns the Blu-ray format.
Either way, the Blu-ray 3D version of Dawn Treader is available to pick up in Best Buy stores starting today!
Order or Purchase from Best Buy today!
---