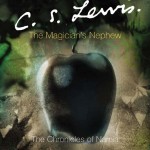 Well, here's a bit of news that is half-known (the fact that they're talking about The Magician's Nephew) and half-unknown (why they are doing that particular story next).  Now we have some more information from Micheal Flaherty for the why.  It was as I expected and explained a number of times.
Flaherty called The Magician's Nephew his favorite book after The Lion, the Witch and the Wardrobe.
"I love the Magician's Nephew because it's a great origins story. You get to learn so much about where the wardrobe came from, where the lamppost came from, where Narnia came from," he said.
"What's interesting is that the Lion, the Witch and the Wardrobe over this period of time sold twice as many books as Prince Caspian and it did twice as much at the box office. Prince Caspian sold a third of the books as Dawn Treader and did a third at the box office," he noted.
"So while it's not always a correlation between books to film, so far with these first three films, it has been."
This is exactly as I had expected.  It has to do with popularity.  It's both a business decision and a financial one.  And it's a smart decision, as a business owner myself, to do what will definitely earn some money to help fund further projects.
But it could also be a long time before we see it come together.
"If we can all agree to move forward, then what we would do is find someone to write the script. So, it could still be a couple of years."
Before you start throwing slings about how The Silver Chair should be next and all of that, and how confusing this would be to people, I have a few things to say about that.
1) Give yourself more credit than that – You are smart enough to know when something is taking place on a timeline.  If you weren't, you also wouldn't know where anything is happening on a linear timeline.  The Bible is also non-linear.
2) While I agree that I would love to see Will Poulter in The Silver Chair next, I also want to see a new adventure on the big screen for the first time.  Sure Will won't get any younger, but there's also the chance that we'd never see The Magician's Nephew happen if Silver Chair didn't do so well.
3) Sure, The Green Mist could have been attributed to the Lady of the Green Kirtle, but all is not lost for those still upset about that.  If The Magician's Nephew makes enough, that could help Silver Chair happen.
In a perfect world, all of the books would have been able to be filmed in the publication order and The Silver Chair would be next.  I would be all for that.  However, I am still thankful that they are going to attempt to continue the series.  To me, that is the important thing.  To me, more Narnia is what I want, and I'm ready for it.
-via The Christian Post
---