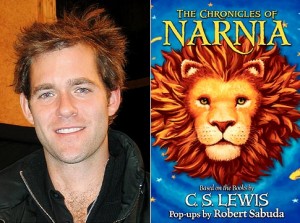 When you wake up, the last thing you want to hear is that someone has died.  Unfortunately, that is what has happened.  Not just that, but it was one of the executive producers of the three latest Narnia films: Perry Moore.  The cause of death is also unfortunate, though it isn't official at the moment, the New York Daily News says that it was an apparent overdose.  He was 39.
"We're in shock," said the producer's father, Bill Moore, 69, adding that he just spoke to his son the night before.
"He was in a great, great mood," he said. "No one was expecting this."
The doorman to the producer's building said: "I was talking to him last night. He was such a sweet guy.
They're saying it was drugs, but I didn't know him to be that way."
Moore was pronounced dead shortly after responders arrived. The exact cause of death has not been determined, but sources said it appeared to be an overdose of OxyContin. He had been suffering from chronic back and neck pain, something he inherited, and was going to have surgery for this spring.
"We're so sad," said his father. "He's been able to reach out and touch a lot of people."
This is extremely shocking to me, as I recently had a conversation about the Narnia films with him via e-mail, and he inspired me to keep up with my goal of writing a book over the course of the e-mail, in which he asked, "have you ever considered writing your own stories?"
We also spoke about the difficulties in bringing the Narnia films to the big screen, as well as the strange place that we find the Narnia series after every release, how it's always a question of whether or not to continue.  We both agreed that the series is far too important a series to stop at any time, and should be continued to the finale regardless of box office (however crazy that idea might sound to some executives, it would be a marathon, not a race to the finish, with reward for years to come).  We also spoke about how Lewis would have viewed the series, and he said: "Having worked on the movies, I really do believe that Lewis wanted each and every one to have his own unique and personal emotional and spiritual experience with the stories.  Let your imagination run wild."
Producer Mark Johnson had this to say: "He, in many ways, started these films," Johnson said. "I've lost a really wonderful friend." (via nydailynews follow up)
Rest in Peace, Perry Moore.
Read more: New York Daily News
---