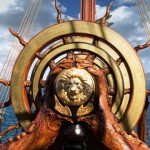 Through January 9, 2011, "The Chronicles of Narnia: The Voyage of the Dawn Treader" has earned an estimated $337.5 million worldwide, according to reports, including a weekend total of $4.75 million in the United States and a debut weekend of $5.1 million in China.
The US haul was good enough for 11th place, down six spots from New Years weekend.
The current domestic total is an estimated $94.7 million, with $242.5 million contributed from non-US markets.  VDT has yet to open in Venezuela (February 4) or Japan (February 25).
To date, the franchise's three films have grossed over $1.5 billion worldwide.  Also worth noting: VDT's current foreign box office of $242.5 million is close to the total for "Prince Caspian," which was $278 million.  At this point, it looks like VDT may well meet/exceed the non-US box office of PC.
And still no word on "The Silver Chair," so don't ask. 

---